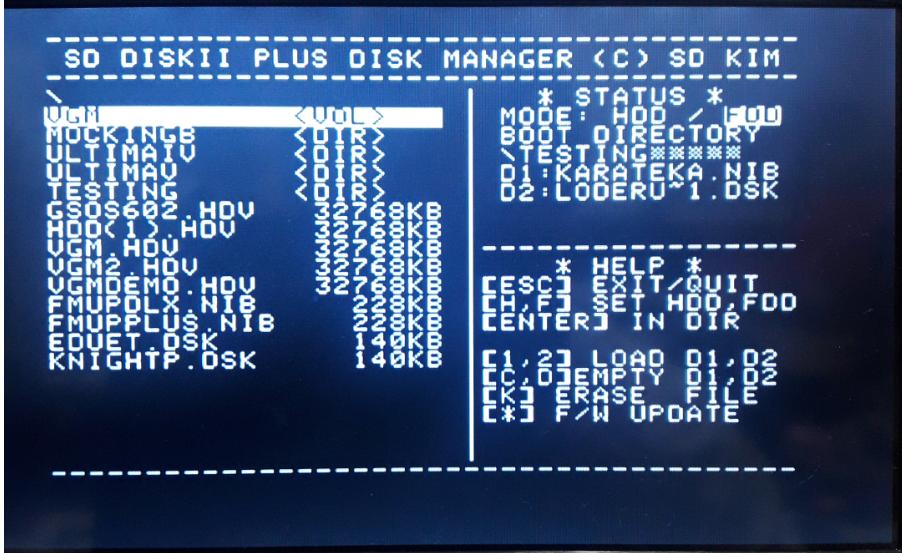 Dear friends and customers,
I'm glad to announce this new firmware of SD DISK II plus emulator card.
This version of firmware is designed for easy to handle image files for SD DISK II plus emulator.
Please download the attached file and perform the firmware updates on your SD DISK II plus.
- Simple way to Update
1) Download and Copy the SDBIOS.ROM file into SD memory card Root directory.
2) Keep press EXIT and DIAL button and Power ON your APPLE IIe
3) Wait until to finish
4) Then Power OFF your APPLE IIe

I didn't test it on SD DISK][ emulator(earlier version) yet.
This Power ON menu works on APPLE //e with 65C02 CPU system. Other 6502 CPU APPLE II may not work.
Power ON your APPLE II and for the Menu, Press 'S' (it will wait for 1 sec)
Then you can see the menu screen.
Refer the * HELP * for the hot key.
* Pressing Left [APPLE] and <- -> / UP Down will work as Page UP/Down

- This version is a testing version.
- Files and Directory can show 40 files only in this version.

If you have any concerns, please let me know.
Thanks & Regards;
Ian Kim