Dear friends and customers,

I glad to annouce this information about the mockingboard for APPLE //c+ is completed.

This board could be installed over the CPU socket same and speaker volume also works as followd the volume control slide.
It was fully tested on APPLE //c+ and works great but, on 4Mhz, It generate higher tone and faster sound. For proper sound, you have to set on normal speed on APPLE //c+.
I ordered PCB for commercial boards and parts. it would take around 2 weeks and then I could start to ship to you.
** Pre-Order will be closed on 28th March **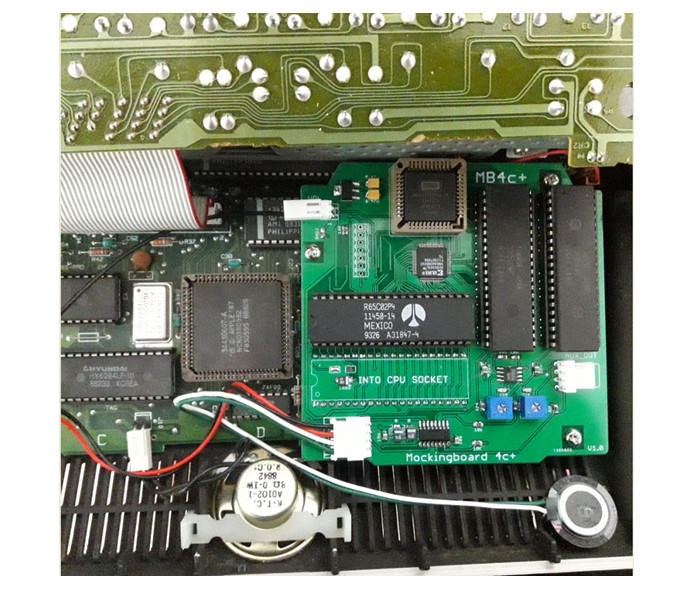 Included items;

1) MB4c+ board
2) Two speakers
3) Volume control wire
*It doesn't include 3.5mm AUX cable.
**MB4C+ is compatible with APPLE //c & APPLE //c+
Price; $125
(Preorder closed)
For pre-orders, I will ship it for free but only for below countries.
* Shipping Issues *
Thesedays, I'm having difficulties to ship world wide.
In this time, I can ship only those countries for free of charge.

--Free shipping countries--
USA
GERMANY
UNITED KINGDOM
LUXEMBOURG
ITALY
RUSSIAN FEDERATION
MALAYSIA
VIETNAM
CHINA
THAILAND
CANADA
PHILIPPINES
HONG KONG(CHINA)
BHUTAN
SANMARINO
ALBANIA
For other countries, I have to check if it could be shipped by EMS or UPS and costs would be higher so, it wouldn't be a free shipping and need additional costs.
For this, Please let me know by email with your address to check the shipping costs.
Thanks a lot
Ian Kim