Dear friends and customers,
Please update your Music DLX card to this firmware V1.0b.
This version patched music instruments changing function.
How to update
1) Pls OFF your APPLE II
2) Remove the Switch Block on DLX card (Firmware update mode)
(SD Music Deluxe card must in SLOT#4)
3) Boot the image file.
4) Follow the instruction.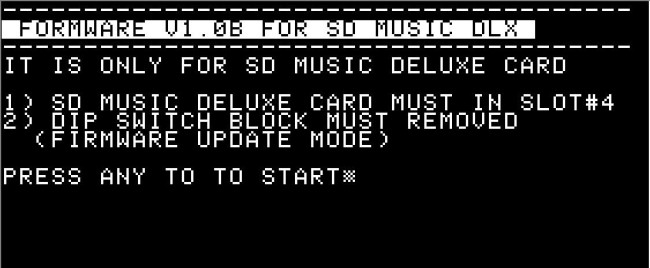 It would take a few mins.
If success, it will make 'Ding Dong sound...' but, if failed, It will make 'Ding.... Ding...'
5) If successfully updated, please return the switch block as before.
6) If has any error then Please try again to 1)
7) Close your APPLE II and enjoy it.
** Instrument change utility for SD Music DLX.
Please download this image file and try it.
You can assign each channel of mockingboard to a specific music instrument(Pls refer to the manual for instrument list).
Also, This utility disk has two example instrument data files for a sample.
This utility can do
(1) Assign music instrument to each channel of Mockingboard.
(2) Upload music instruments to SRAM
(3) Upload music instruments to EEPROM
Pls refer to the Source code for your programming.
If you have any questions, please let me know.
Thanks
Ian Kim