Dear customers,
SD DISK II Plus firmware upgraded to V2.73E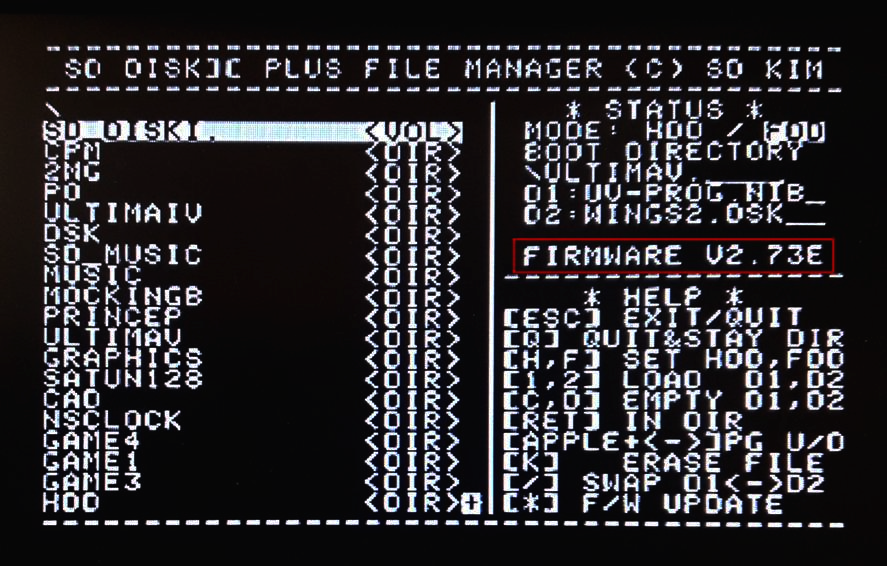 1) This version support another HDD access mode (Named as a Superblock) and it is a preparation for A2 OverDrive WAV Player. APPLE can read up to 512MB by ASM driver calling.
Anyway, Prodos can't recognize it, and only 32MB is the biggest capacity on each Drive.
2) PO FDD selected and Power ON boot failed to load it and fixed now
It happed when *.PO files selected and power OFF --> ON, but, didn't show it to load.
It fixed now
3) Cache access timing optimized, For more speed on Cache, I added some NOP internally on program code and I removed one of NOP my last revised Board would work but, some of earlier announced SD DISK II Plus may have a problem, Please verify it if you having some error on HDD mode. If it brings issues, I will add it as before.
Please download the firmware and update it for better performance on your SD DISK II Plus.
How to update;
Please refer to this nice slide show (Thanks Mr. Johnson Lam)
www.youtube.com/watch?v=m-aRxqWuBzc
Thanks a lot
Ian Kim