APMSX card is a computer card for APPLE II.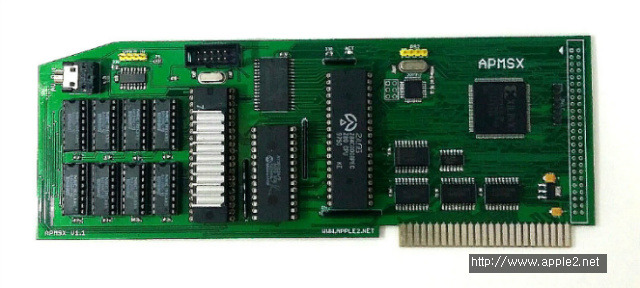 It is a MSX computer and slot type for APPLE II.
It runs with APPLE II not just sit on slot.
It isn't a emulated FPGA MSX card It has own Z80 CPU with 512KB SRAM with TTL logics and CPLD(Which is only used to reduce lots of TTL chips).
APMSX work very closely with APPLE II.
It access APPLE II memory or I/O of APPLE II.
APPLE II and APMSX can communicate each other.
Both systems have common shared memory area.
The common area are include APPLE II's I/O area($Cxxx) and memory area, APMSX could access APPLE II's peripheral such as HDD(SD DISKII plus) even Mocking board could make it work.
In the beginning of APMSX design, I share whole memory area of APPLE II and it's looks good and both are work as brain shared computer. but, It became bottle neck of the system on both. They can't run full speed when it open as shared.
APMSX works 7.16Mhz(Two times of MSX) speed and while access sharing area, Z80 and APPLE II BUS have to synchronized and results APMSX become slow.
Because of this performance issue, I redesign to small share area.
And finally 16KB of Page2 on MSX.
Anyway, I'm still considering if I need to make it adjust the size of share.
Now I have Max. 256KB RAM (If MegaROM mapper ON, It will be 128KB)
It's enough RAM on MSX1 system.
I hope that someone could use this size of memory for nice program for DOS2 or Game runner.
APMSX has integrated ROM mapper for Mega Games.
ASCII 8K , ASCII 16K and Konami mapper support.
8K Mapper auto detect if it required a Konami or ASCII 8K Mapper.
(8K <> 16K have to selecte before to start game)
ASCII 8K Mapper
ASCII 16K Mapper
Konami Mapper
Anyway, I'm keeping developing to make it perfect.
Thanks a lot
Ian Kim